Collections
Lusto records, preserves and makes available material about Finnish forest history and culture. Our collections grow constantly and consist of about 15,000 objects, 500,000 photographs and negatives, as well as 2,000 different film and video recordings. The library has about 15,000 publications.
Would you like to donate forest culture-related material to Lusto?
Send your offer with an image and background information to kokoelmat@lusto.fi
Collection policy
Lusto's collection policy is a description of the management of the museum's collection, its objectives and principles, and the methods we use to implement them. The collection policy outlines the museum's collections management in the long term.
Lusto collections online
Lusto's collections can be explored in the Kantapuu Finna service as well as on site in our exhibitions or by agreement in the collection rooms.
Kantapuu Finna
The Kantapuu Finna database contains an extensive collection of photographs and pictures of artefacts related to Finnish forest culture as well as related information from Lusto's collections. The database also features other cultural history material from the collections of seven other museums. You can use the Kantapuu service to order a copy of a picture of an archive item or an object, while you can also use it to provide additional information about an image or object to the museum that holds it.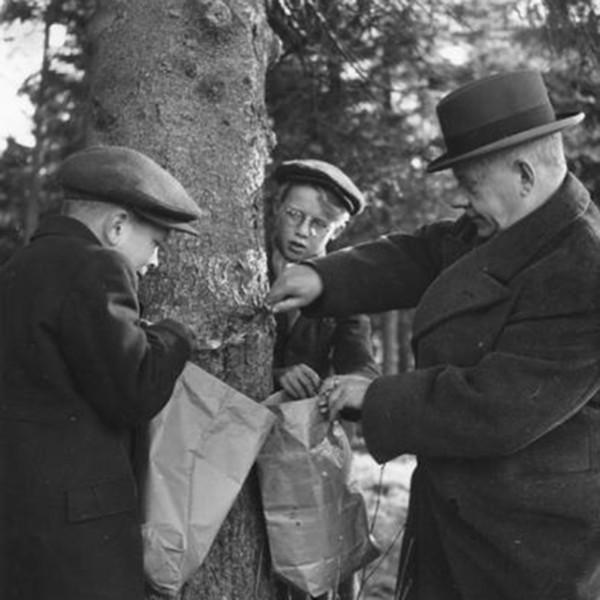 Image orders
Lusto's photo and video archive of forest history – the largest of its kind in Finland – sheds light on Finnish forest culture and is a source material for research, publications and exhibitions. You can place orders for materials through Finna's image service (from spring 2021), by phone or by email. Customers can use the low-resolution images in Finna in accordance with the terms of the licence. The collections that have not been digitised can be explored on site at Lusto by appointment.
Printable copies of the some of the collection items, subject to possible restrictions of use, can be ordered for an image-specific fee.
Orders and contacts:
kokoelmat@lusto.fi
Image service price list
An image-specific service fee is charged for all images ordered. The museum is not subject to VAT, so VAT on images is 0%.
Digital images without editing

A4 and smaller

EUR 30

Larger images

EUR 45
Photocopies and prints

A4 copy/print

EUR 0.50

A3 copy/print

EUR 2.00
Photo prints

A4 and smaller

EUR 45

A3

EUR 60

Larger than A3

by agreement

Photo prints are printed on photo paper with an inkjet printer.
Video materials
The use and loaning of video materials is agreed on a case-by-case basis.
Assignments and editorial services
Image editing, photography and video photography, editorial services, extensive image searches and archive work, EUR 60/hour, minimum fee EUR 30.
Handling fees
Digital material is delivered by email free of charge. Postal deliveries: handling fee EUR 6 + postage by weight.
Terms of delivery
The customer is responsible for respecting copyright and privacy laws when using images. Using images of people in marketing and advertising is prohibited without their permission. If a customer publishes images and information, it is their responsibility to ensure the accuracy of the material. If images are published, the name of the photographer (if known), the name of the collection and Lusto must be mentioned. Please provide Lusto with a copy of all printed publications that feature Lusto's material.
Delivery time
Approx. 14 days.
Invoicing
By email or e-invoice free of charge, by post EUR 5/invoice.