New game challenges us to more empathic forest conversations
Empathy artist Enni-Kukka Tuomala is creating a new artwork for the new permanent exhibition at The Finnish Forest Museum Lusto in 2024. The artwork will bring to life different forest values and perspectives, offering museum visitors a playful and collective empathy experience.
The Core Exhibition Reform
Stories about the coexistence of man and the forest
Lusto is reforming its core exhibition in 2020–2023. Opening in 2024, the core exhibition will replace Lusto's current permanent exhibitions and offer new types of content to different groups of visitors. The six perspectives of the core exhibition describe a diverse and ever-changing forest relationship.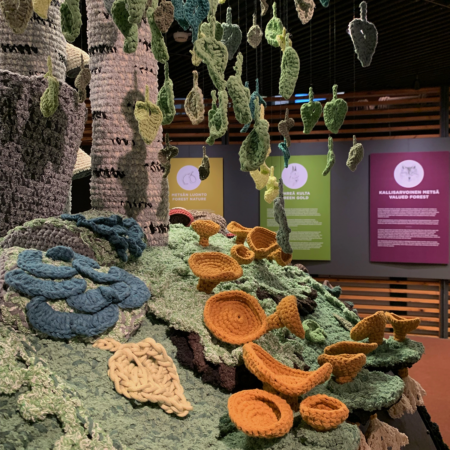 Forest nature | The forest is a complex and constantly changing ecosystem that in itself inspires admiration and respect. Diversity is reflected in the structure, species and functions of the forest. Preserving the diversity is the basis for the sustainable use of woods and a prerequisite for an ethical relationship with the forest.
Lifeblood | For a long time, forest-related well-being has been mainly interpreted in terms of wealth, success and health. Nowadays, well-being is primarily associated with peace of mind, wellness and low blood pressure. However, well-being can no longer be introduced solely through a person-centered approach.
Green gold | The forest has always been a versatile source of raw materials which has been learned to utilize and develop over time in new ways. The forest is also a source of information, a place of experiences and learning. The perspective on raw materials and benefits has affected Finns' relationship with the forest.
Valued forest | Forest nature evokes strong emotions linked with diversified values and their combinations. Values depend on time, place and culture.
Forest folk | The forest and the forestfulness are Finns' spiritual home. Though the content of the forestfulness varied over time, it hasn't affected the importance of forests to individuals, communities and society.
Forest work | Forests have been a source of living and a basis of livelihood for a long time. For many Finns, the relationship with the forest has developed from working relationship with shaping perceptions of both work and the forest. The diversification of the relationship with the forest results in changing and increasing the forest-related professions.
The core exhibition reform is funded by The Finnish Cultural Foundation.